Your prosperity deserves a proper defense.
We protect your livelihood by securing your information in our state-of-the-art data centers. We don't outsource your data to any third parties. All your digital assets are hyperconverged on servers in our advanced data center right here in Pennsylvania.
EMCO shows you exactly where your data is stored in our ultramodern facility. With the flexibility to store massive amounts of data, you're granted the freedom to expand your business to new heights. Best of all, your data is segregated, stored securely in its own dedicated space on our servers. You never have to worry about your information comingling with that of another business.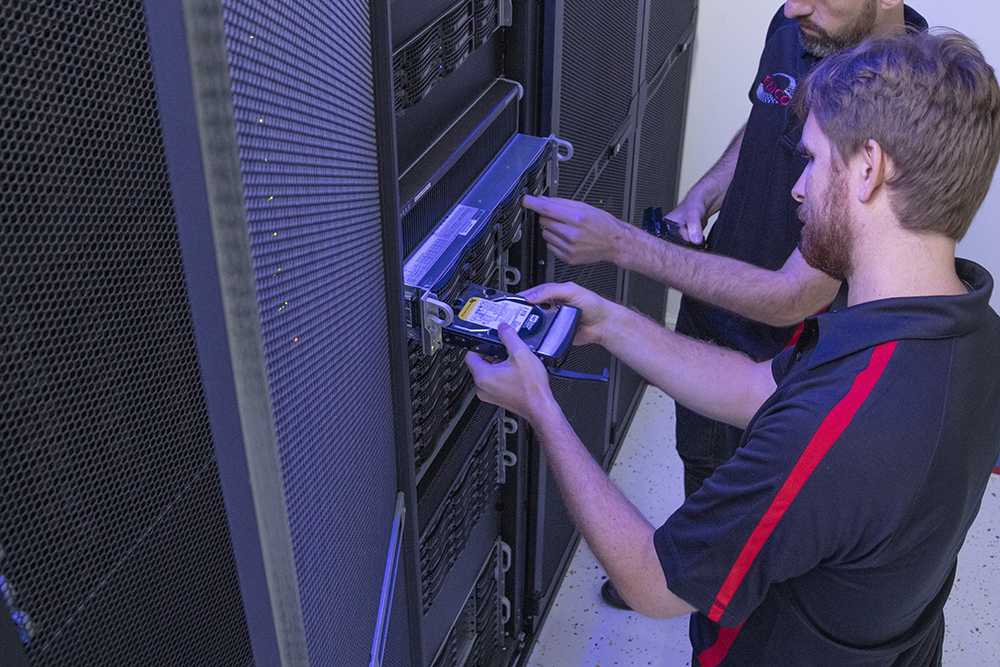 Our Data Centers Offer Expert Capabilities:
If your business deals with hypersensitive information, we have you covered.
EMCO has the licensing, education, and skills necessary to work within multiple regulatory bodies. Our data management technicians maintain privacy compliance for all of your digital information. From privileged client information to your intellectual property, we store your information on our servers located within an ultra-secure and compliant data center. The facility is also fortified to withstand natural disasters so that nothing can come between you and your data.
Your data is never left unchecked.
With the costs of data breaches reaching record levels, keeping your information secure is more important than ever. That's why EMCO's data centers employ trailblazing layered security, all under the watchful eye of advanced artificial intelligence. Our AI diligently analyzes the behavior of your network, catching zero-day threats and instantly reporting any incidents or abnormalities.
Every one of our defensive components is backed up to effectively counter advanced threats. Our multi-layered security approach combined with 24/7 monitoring ensures your network can stand up against aggressive cyberattacks from malicious agents.
Our data center is overseen by a close-knit group of professionals.
Working with oversized IT corporations often results in data breaches slipping through the cracks. With so much information to supervise, they cannot dedicate time to individual clients. You deserve better service. With EMCO, in addition to artificial intelligence protection, you'll receive the personalized aid of a flexible and dedicated crew that will always be on top of your data.