Why Law Firms Need Cybersecurity
Why Law Firms Need Cybersecurity.   They'r ripe for hackers. You store incredibly valuable, sensitive information and may even have access to trust accounts filled with your clients' money. This makes you susceptible to theft and ransom.
However, your first line of defense to external threats to your firm is making sure your employees are educated and trained on how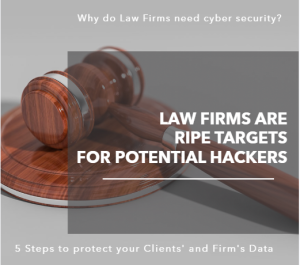 to operate securely.   According to a study by Computer Weekly, 84% of cyberattacks reported had been due to human error.  So how do you mitigate your firm's risk of data breaches and keep your clients' data as secure as possible?
Below are 5 steps your firm can take now to minimize the risk of a data security breach.
5 Steps to Protect Your Clients' and Firm's Data
Conduct an Assessment. While performing periodic reviews of your own vulnerabilities, having a third party perform a security assessment can reveal more information using "fresh eyes" and cybersecurity scanning tools to survey your environment. The ABA reminds its members that some cyber insurance carriers may require that a third party perform an assessment and some clients may also want to know the status of your cybersecurity by requiring third party assessments or reviewing past assessments, policies and other documentation.
Have Acceptable Use Policy for all employees in place. An acceptable use policy (AUP) explicitly outlines the rules employees must follow in regard to the firm's network, software, computers, laptops, and mobile devices. It clearly states how employees should and shouldn't use both employer-provided technology and personal mobile devices like smartphones and tablets.
Take it to the Cloud. Numerous studies show that cloud-based solutions are more secure than on-site.  With a growing number of firm employees working remotely, cloud-based computing is an integral part of your operations and when staff is trained for security remote access your data is more secure and there is less of a chance for an external threat.
Use A Password Manager. In the 2018 Aderant Business of Law and Legal Technology Survey, no more than 32% of respondents indicate they use a Password Manager.  Implementing and training your staff with the use of such a tool is the most affordable and simply way to keep your clients' information safe.
Have an Incident Response Plan. Even the most careful companies can't guarantee they'll never be a victim of hackers or cyber-crime, so it is imperative your firm drafts an Incident Response Plan just in case.
EMCO Technology has been a provider of IT and Data Security Management for law firms in the Philadelphia are for over 20 years.  We understand the unique needs of the legal industry and offer a variety of products and services to keep you safe.  We can provide you with the assessments, policies, software and training referenced in the list above.
Just as you wouldn't want a client to represent themselves in court, we don't want you to represent yourself in the world of IT security.  Let's talk about your needs and how EMCO's solutions can help.